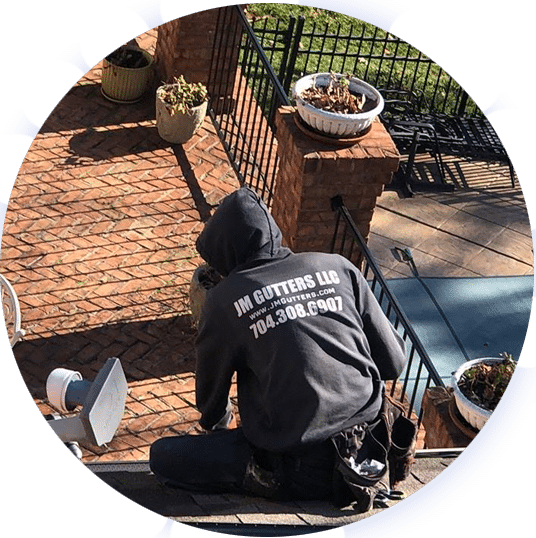 JM
Gutters
JM Gutters LLC is a family owned business that is located in Lincolnton, North Carolina. We service the Lincolnton area, as well as the much larger city of Charlotte and all of the neighboring communities, as well. The Perez family started this business, and the qualified team members have acquired over 14 years of experience in our industry.
We specialize in gutter systems, including gutter installation, gutter maintenance, gutter repair, gutter cleaning, downspout services, pressure washing, and so much more. If you are in the Charlotte region, and you are looking for a dedicated group of professionals to help you with all of your gutter related services or exterior washing services, then please contact JM Gutters today!
The professionals from JM Gutters know the importance of a fully functioning gutter system. The purpose of a gutter system is to carry excessive amounts of water away from your building's roofline and other building materials.

call us
(704) 308-6907

email
info@jmgutters.com

Services
Lincolnton, NC 28092
If water doesn't run freely away from your building materials, then it will find another place to collect, and can cause major damage, quite quickly. Properly functioning gutters is the key element to protecting your home or office from acquiring destructive water damage. We offer our gutter services to all residential and commercial customers, so we gladly will help you protect your home or your business.
In addition to offering top quality gutter care services, JM Gutters also offers pressure washing services to our customers. These services also help you protect, and care for, your home, with thorough cleaning services of your home's exterior, driveway, walkways, patio, deck, fences, pool area, and any other hard-surface, exterior area that needs attention and care. Our trained staff has the equipment and the knowledge to assist you with all of your gutter and pressure washing projects.
If you have these home care projects on your to-do list, then please contact the professional staff from JM Gutters to learn more about our services and our scheduling. We are happy to take care of your projects anytime you are ready for our high-quality and attentive services.
Elizabeth H.