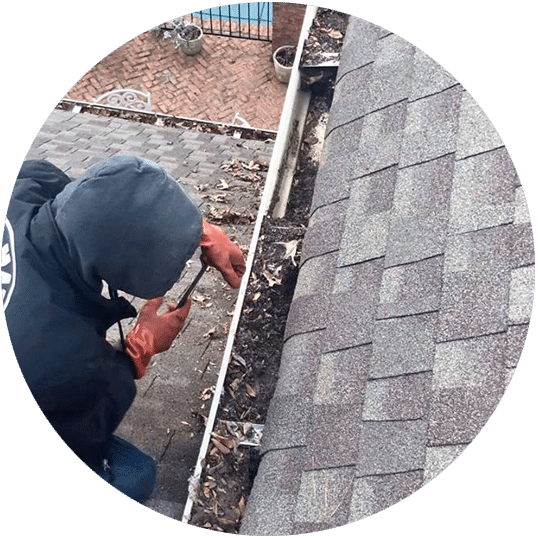 Gutter
Cleaning
Cleaning the gutters on your home, or your business, is a very important project, that should be completed about every year or two. Some of the varying factors that effect how often you decide to clean your gutters, include; personal preference, local weather, and your particular environment. For example, if your home is surrounded by large trees, then you will probably want to clean your gutters more often than not, due to the large number of leaves that may clog your important gutter system. Within the Charlotte area, JM Gutters LLC is your local gutter care company that specializes in gutter cleaning, among other things. If you have gutter cleaning on your to-do list, then please contact us anytime.
The gutters of your home are very important because they run rainwater and melting snow away from your home, and limit any damage from occurring due to standing, or misplaced, water. If your gutters become clogged with debris, then they cannot function properly. The result of malfunctioning gutters can be disastrous for your home and its' building materials, mainly because water will find some way to flow, and clogged gutters will alter the natural flow of properly draining water.
In order to ensure that your gutters are free from clogs, and that they are functioning properly, it is important to have them cleaned by an experienced and trained group of professionals, on a regular basis. The team members from JM Gutters have acquired years of experience, and are trained and equipped to handle all types and sizes of gutter cleaning projects. Our methodical processes ensure that our customers will be happy with the results, and you can rest easily knowing that we pay close attention to detail, as we work to rid your gutter system of debris, dirt, and grime.
The professionals from JM Gutters take pride in the work that we offer to our customers. If you are looking for someone who is diligent and dedicated to help you care for your gutter cleaning needs, then please contact JM Gutters today! We look forward to working with you!
Elizabeth H.