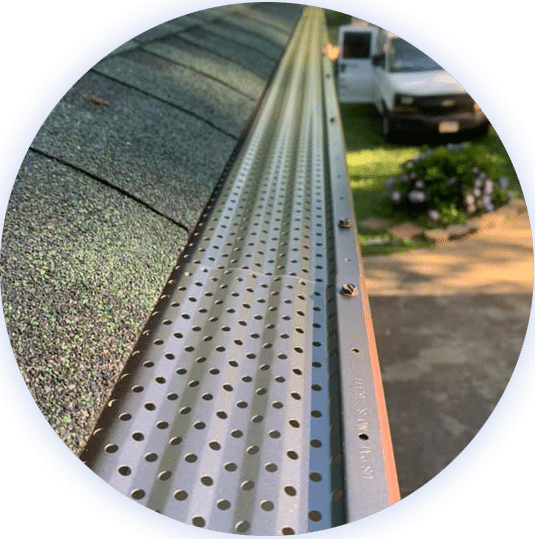 Gutter
Guard
Placing a gutter guard along the top of your home's gutters is a great way to save you some time, money, and headache in the future. Choosing high-quality gutter guards that are professionally installed is also a great way to add value to your home and limit the amount of debris that can clog your gutters over time. Throughout Charlotte, and all of the surrounding communities, the professionals from JM Gutters LLC offer gutter guard installation services, as well as gutter guard repair services, to all of our customers. If you are in the area and you are interested in learning more about our gutter guard services, then please contact us today. We believe that you will not be disappointed.
Gutter systems play an important role in protecting our homes from receiving water damage from heavy rainstorms and snow falls. Properly functioning gutters will carry water away from our rooflines, through the downspouts, and into the surrounding ground and vegetation. Every property owner should be aware of the importance of fully functioning gutters, because they can prevent water from flowing in an area that could cause catastrophic damage, if left unchecked.
In addition to ensuring that your gutter system is working properly, another way that you can help to prevent clogs within your gutters, is to install gutter guards along the tops of the gutters themselves. Gutter guards act as a roof for your gutters, and they prevent most leaves, dirt, small animals, and other things from settling into your gutters. The guards limit the invasiveness of these items, but still allow for water to flow through the gutters, as it should.
Gutter guards are available in a number of materials, colors, sizes, and prices. The professionals from JM Gutters welcome the chance to work with you, in order to choose the best gutter guards for your purpose, and to provide installation services for you. Additionally, if you have gutter guard repair projects that you need completed, then our professionals will be happy to assist with those services, as well. Please contact JM Gutters for all of your gutter guard questions and services, anytime!
Elizabeth H.