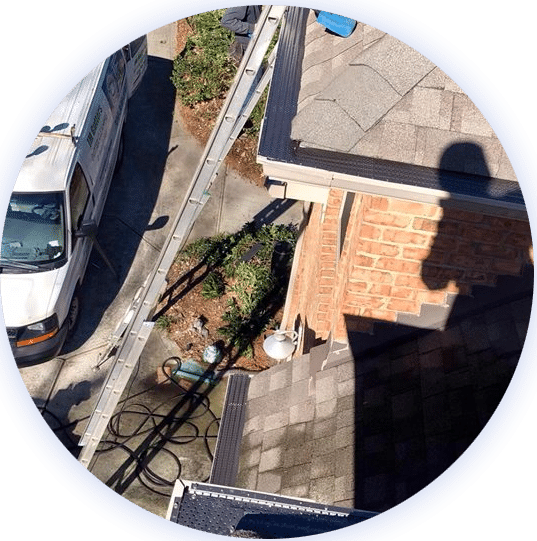 Gutter Repair
Service
Gutter systems on our homes or businesses make life a lot easier for everyone. Gutters are the channels that flow water away from your home and into the
surrounding vicinity. They prevent standing water, or misdirected water, on your home, and prevent water damage from occurring to your home's building supplies. Without properly functioning gutters, your home would be open to significant damage during any rainstorm, hail storm, or snowfall. When you have a gutter that has broken, cracked, become damaged, or has failed in some other fashion, it is important for you to have it repaired as soon as possible, in order to ensure its' proper function. Around the Charlotte area, JM Gutters LLC is your local company for gutter repairs, as well as all other projects related to gutter care and maintenance.
The professionals from JM Gutters have been in business for many years and have seen just about every type of repair that is needed. There is no gutter job that is too small or too big for us to tackle. We work diligently to locate the
problematic issue, diagnose the problem, and make all repairs, as needed.
Furthermore, we guarantee to keep you informed throughout the process, because we know that your home is a big investment and we want you to understand the issues that we face with this gutter repair.
JM Gutters guarantees the work that we perform. We pride ourselves on our workmanship skills and on our attention to detail. You can rest easily knowing that your gutter care is in very good and capable hands, when you work with a team member from JM Gutters.
Our talented staff has high-quality tools and advanced training to perform all types of gutter repair problems. We also have the physical capability to perform our work on tall ladders, as needed, and we always follow all safety precautions. Safety is a number one concern for us, as we provide safety for our employees, you and your family, and your home. When you have a gutter system that is in need of a repair, please contact JM Gutters as soon as possible for professional, expert assistance.
We offer professional gutter repair services in the following areas:
Plus the Surrounding Areas!
Elizabeth H.