JM Gutters LLC
LICENSED & INSURED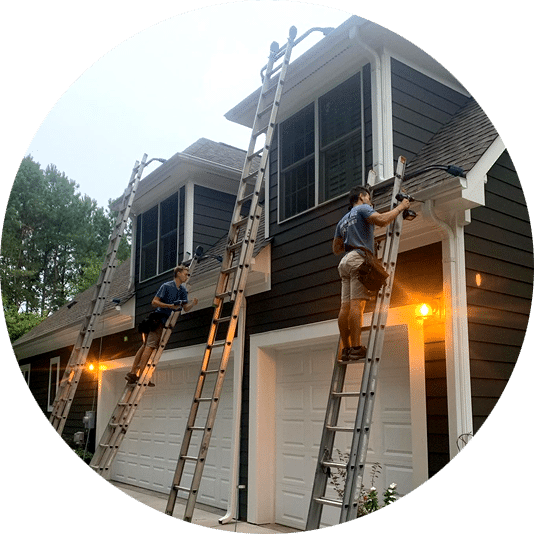 JM
Gutters
The gutter system of your residential or commercial property is very important and plays a significant role in protecting your home or business from water damage. Excess water damage can be devastating to your building materials, and can become quite costly and extensive in a short amount of time, especially if not caught and repaired quickly. Caring for your gutters properly is key to ensuring that your gutter system is working sufficiently and that they are installed, and maintained, correctly. If you are a property owner in the Charlotte area, or in the surrounding communities, then JM Gutters LLC would like to offer our gutter care services to you.
JM Gutters is a family owned company that is based in Lincolnton, NC. We service the Lincolnton area, as well as Charlotte, Gastonia, Concord, Matthews, Weddington, Waxhaw, Fort Mill, Rock Hill, and all of the areas in between. Our staff has over a decade of experience working with all types and sizes of gutter systems, and we take pride in the services that we offer to our customers.

call us
(704) 308-6907

email
info@jmgutters.com

Services
Lincolnton, NC 28092
Some of our services include, but are not limited to; gutter installation, gutter repair, gutter cleaning, gutter guard systems, downspout installation, downspout repair, gutter removal, and pressure washing services. We have an extensive knowledge on gutter operations, gutter parts, and how fully functioning gutters are vital for the structural integrity of a home or business. We also believe that your property is a big investment for you, both financially and personally, and our goal is to help you care and maintain your building materials and your surrounding property.
The professionals from JM Gutters are eager to please our customers with our high levels of customer satisfaction and friendly customer service. We are equipped and trained to handle all types of gutter related projects, as well as pressure washing projects, too. We always try to work with our customers' schedules, and exceed our customers' expectations, with every job that we are granted.
If you would like to learn more about our services or schedule a project with us, then please contact us as your earlies convenience. The staff from JM Gutters looks forward to hearing from you and working with you anytime!
We offer professional gutter services in the following areas:
Plus the Surrounding Areas!
Elizabeth H.