Gutter Installation Lincolnton, NC
Gutter Installation Lincolnton, NC
Introducing Our Professional Gutter Installation Services 
Gutters, downspouts, and drainage systems are vital to the longevity of your property. Quality gutter installation and repair for your home or business is essential if you want your home or commercial building to last. These things are an integral part of your home – if they're not working, it can mean big problems.
JM Gutters is here to help you realize your dreams of having that gutter for your home. With over a decade in the business, we've got the experience you're looking for. When you choose us for your gutter installation services, you'll find we're capable and professional operators dedicated to your satisfaction.
Imagine unnecessary expenses and problems caused by water damage, mold, rot, rot, and more–Your gutters are likely to be damaged. This will harm not only the building, it will adversely impact the look of your property.
Don't put yourself at risk – contact JM Gutters today. Our work is guaranteed, and our courteous staff is always happy to answer any questions and provide helpful advice to ensure you get gutter installations free from headaches and hassle. Our team offers the highest quality gutter services and gutter systems in North Carolina.
We install, repair, and clean all types of gutters so that you can protect your investment and ensure that you are getting the most out of your guttering system. And with an extensive warranty on all our work, you can rest assured knowing we will take care of you after the work is done.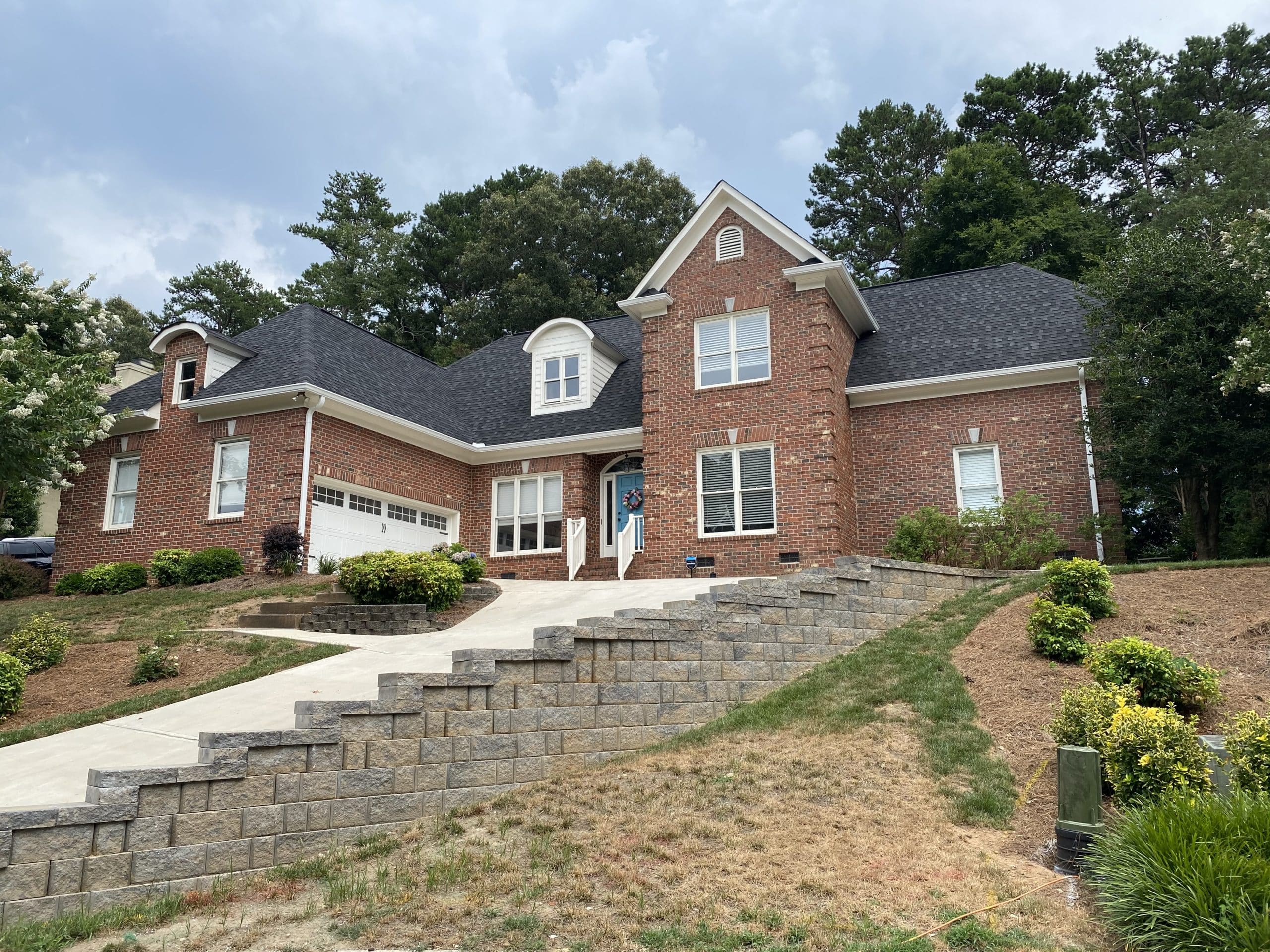 Quality Gutter Installation Near You In Lincolnton, NC
Lincolnton homeowners realize they have a gutter problem after it rains heavily and water makes its way into their homes. We think guttering is an easily ignored maintenance issue until it isn't.
Well, JM Gutters is your trusted Lincolnton area gutter installation expert. JM Gutters offers expert gutter installation in Lincolnton, NC, including repair and replacement. Our knowledgeable crew is ready for any challenge, whether an entire roof or just a small area. We're the ones you can count on to make your job easier and your property more beautiful.
New gutter installation can help protect your house from rain-related damage, such as water getting behind your drywall or under the paint in your home. As time goes by, the cost of keeping up with maintenance will eventually cost you more than doing a complete gutter installation replacement.
Our gutters installation services are available throughout Lincolnton and surrounding areas in North Carolina. Whether it's a commercial, residential, or new construction project that you have, we can get the job done promptly and professionally every time.
In addition to keeping your gutters clean, functional, and secure, we also handle the installation of leaf guards that help prevent debris buildup, which protects your roofline from damage. We are dedicated to providing safe practices that reduce harm to property and you by completing each job with precision and care.
To top it all off, we are your friendly neighbors in Lincolnton. So, if you are stuck on search engines, searching "Gutter installation near me," You just hit the jackpot.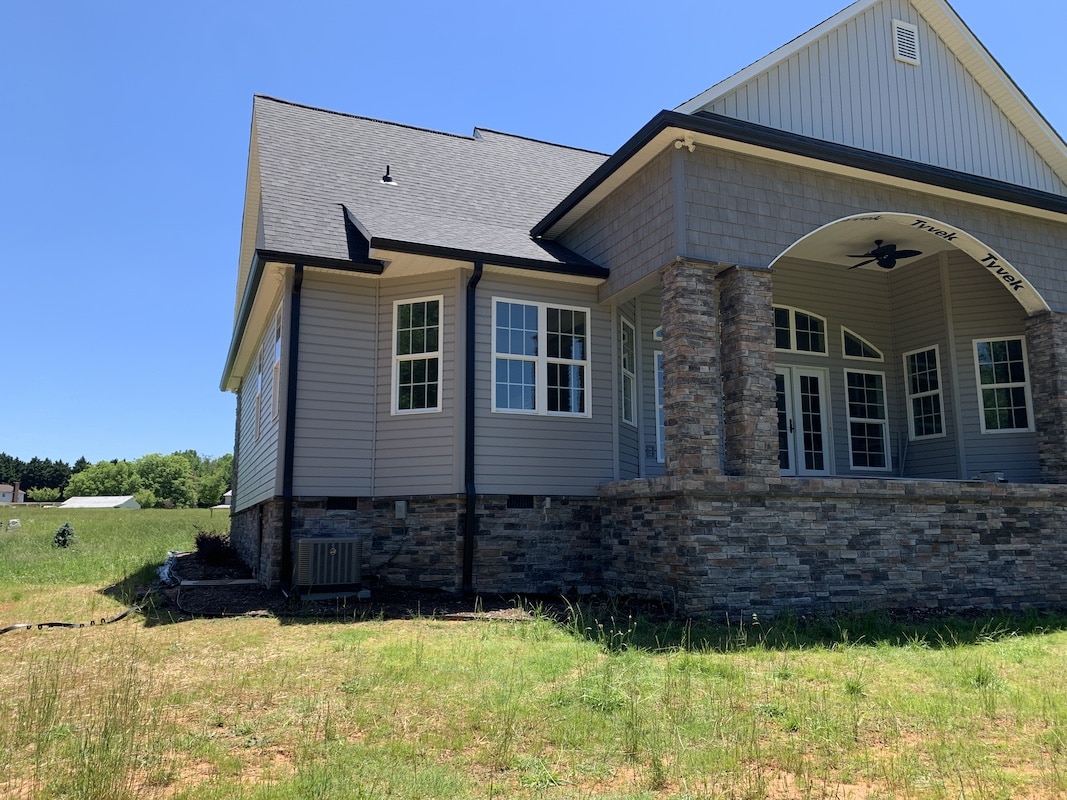 Looking For Gutter Experts Lincolnton Residents Trust? 
Trust is important for every business. At JM Gutters, we understand that concept. You want a company you can trust to do a 100% Job–without that; it is simply a waste of money. You have probably noticed that an improperly functioning gutter system can cause expensive problems.
For example, when rainwater gets collected and pooled in your gutters and freezes in the wintertime, you could end up with a huge ice dam. And if that happens, the ice dam can do several things to damage your home. For example, it could crack or damage your roof tiles or even your roofing materials. Additionally, without a proper gutter system in place to carry away water coming from your roofline, water can overflow and run down the walls of your home. There are even some cases where this could lead to basement flooding.
This is why healthy guttering is vital. Having a gutter system isn't only about looking good and keeping your building well-protected from water damage. Having a gutter system that is properly maintained can save you money by cutting down on the cost of repair work due to leaks.
That's why the experts at JM Gutters are here in North Carolina. Our team offers everything from gutter installation to gutter repair to cleanings, so customers like you can rest assured knowing that our professionals will take care of all of your needs.
JM Gutters uses a unique combination of precision measuring, specialized tools and adhesives, and other materials to ensure professionalism in a gutter installation that leads to a lifetime of excellent service from our clients. When you choose JM Gutters as your gutter installation company, you get only the best.
Call Today For Expert Gutter Installation In Lincolnton, NC
You've seen the damage water can do when it rains. Well, now you won't have to worry about any of this because we've got your back. At JM Gutters, we have certified gutter installers who will give you the best service in Lincolnton. We guarantee our work 100% so you can go on living under a worry-free roof. Call us today!
We also offer the following services in Lincolnton, NC: